ARE YOU NEW TO CPC?
Welcome to the online home of Christ Presbyterian Church in Knoxville, Tennessee. Whether you were looking for us intentionally or simply found our website through a general search for local churches, we're glad you're here! So make yourself at home and poke around. You'll find info about what we believe and teach, links to sermons and other resources, and – like any home – family pics. Of course, we hope this virtual visit will lead to meeting you in person soon.
Christ Presbyterian Church is a Christian community with a passion to please and glorify God as he has revealed himself in his Word, the Bible. Indeed, we're committed to Scripture as the ultimate authority for faith (doctrine) and life (practice), both in worship and in every facet of our lives. It is our particular joy to proclaim the love and mercy of God for the world through the gift and sacrifice of his Son whom he gave to bring us near to himself. We love God because he first loved us! Because of his unfathomable mercy and kindness towards us, we are committed to serving our Savior and King, the Lord Jesus Christ, by keeping his commands and spreading the good news of forgiveness and reconciliation between God and men.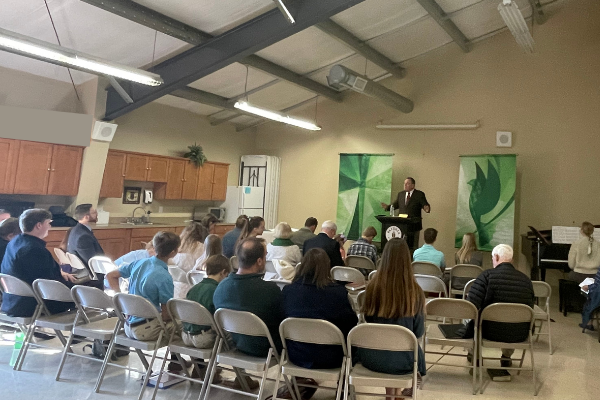 CPC has deep spiritual and historic roots that reach down to the ancient creeds of Christianity and run through the Protestant Reformation, giving us a solid foundation for a vibrant, growing faith today. We are a member congregation of the Communion of Reformed Evangelical Churches.
Our worship service begins at 10:00 a.m. on Sunday mornings. Our Christian Education classes begin about 11:30 a.m., and we wrap up around 12:15 p.m.
Worship at CPC is Christ-centered, reverent, relevant, full of praise, and family-integrated. (We love the voices and noises of our kids as they, too, worship with the entire church family). On the spectrum of what may be practiced in other Christian churches, our worship style would certainly be pegged as traditional. But we're not traditional for tradition's sake. Everything we do in worship is guided and shaped by God's Word. He calls us into his presence, and we come with praise and thanksgiving. We confess our sins, and God assures us of his forgiveness and cleansing, not because of us, but only because of Christ. Then we are consecrated by God's Word, which is sharper than any two-edged sword, continuing to transform us into living sacrifices, holy and acceptable to him. Worship reaches its apex in communion with God at the Lord's Table, which we observe weekly. Finally, we are commissioned to go into the world as Christ's servants to serve others in his name. Thus, through and in worship, our covenant relationship with our gracious God is renewed and strengthened.
Although we meet for worship in west Knoxville, we have members from all over the area. We are a small church family at this point, but even so, we have the hope that God will use us to be part of his powerful purpose to save all his people, beginning, of course, in our neighborhoods. We have members of all ages, from infants to grandparents. We're mostly families, but singles are not left out. While each of our histories is unique, God is knitting us together into this community known as Christ Presbyterian Church.
We're looking forward to meeting you. Again, look around our website for further activities and upcoming events. If you have any questions, please don't hesitate to drop me a note via the Contact Us page. And thanks for visiting!
Pastor Mike Pasarilla